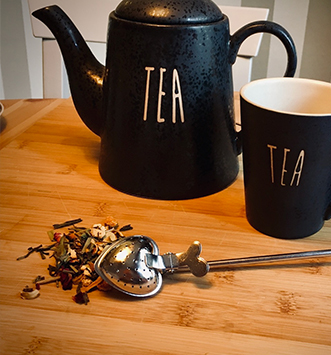 Tea lovers will tell you that the preparation of a good tea depends on the quality of the accessories. The infusion of your drink depends on the quality of the infuser.
Several tea filters exist: tea balls, strainers, filter bags and tea tongs. How to choose your tea tongs ? Here is our advice.
Tea tongs: what are their characteristics?
The tea tongs are an accessory that is used for loose teas and can be presented in two forms:
A tea ball with a handle: The sieve is a globe-shaped grid.
A closed tea spoon.
In both cases, the product allows you to collect the tea directly from the box or package and brew in your cup or mug. Tea tongs are often made of stainless steel.
Tea tongs: how to make your choice?
A good tea infuser is usually removable, it must be adapted to your container, and be made of stainless steel so as not to alter the taste of the water. Two other criteria will be important to choose your tea tongs: the size of the tongs and the size of the holes.
Check the size of the tea tongs
Tea tongs should be large enough to allow teas to brew properly. Tea leaves and loose tea are dried out and will increase in volume by about 20% while brewing in water. Your tea tongs must have a satisfactory capacity to allow the leaves to unfold and get the full potential of your beverage. Tea balls with handles can come in many sizes, so it's important to choose one that fits.
If you consume a large amount of tea, this product is not suitable for the teapot. It will be much more convenient for individual use in a cup or mug. Be careful though, the tea ball with a handle may destabilize small cups.
Check the sieve and the holes of the tea tongs
When you drink your tea, it is not nice to swallow the tea leaves as well. So you need to check that the strainer of the tea ball with handle or the holes of the closed spoon do not let them through when you brew your drink.
Your tea ball with handle should be both an infuser, but also a filter. The smaller the holes on your product, the more your product will have this filtering role. When using it, you need to be careful about the junction and avoid tea leaves getting stuck and possibly escaping.
Tea tongs: what are the advantages and disadvantages of this accessory?
Tea tongs are very practical and affordable accessories. It is a readily available product that you can find in stock in stores or online. Tea tongs are often made of stainless steel unlike other types of infusers that you can find in silicone, glass, etc.
Many consider that the size is often too small and does not allow for a proper infusion of tea. On the other hand, tea tongs are relatively solid products and above all, easy to maintain and do not take up any space. You can easily use them at home or in the office as infusers.
To learn more, you can read our articles on :