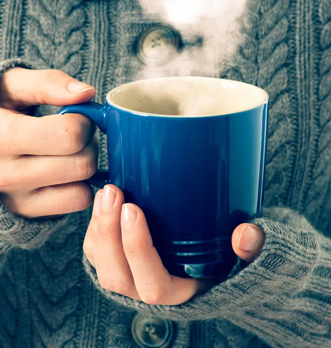 Among the tea accessories, there are different products to keep the temperature of the infusion. The tea thermos is the best known solution. There are also insulated bottles equipped with a filter infuser. These items function as portable teapots. An alternative to teapots or cups with tea balls is the mug with infuser and lid. Find out how to choose between tea accessories to keep your tea hot!
Keeping tea warm with a tea thermos
The tea thermos is one of the most used tea accessories. It can be made of stainless steel or glass. An insulated tea bottle allows you to keep the temperature of the tea for several hours. The concept of the tea thermos is to place a bottle inside another bottle. This quality insulation traps the heat very efficiently.
The lid of the tea thermos allows it to be completely airtight. There are many models of these accessories to keep tea warm. The different insulated bottles offer a longer or shorter storage time for tea.
What are the advantages of tea thermos?
You want to keep your tea water at the right temperature as long as possible? The insulated tea bottle is the accessory that allows you to keep the temperature of your drink for the longest time. The stainless steel or double-walled glass of the insulated bottles retains the heat better than the materials of the classic teapots.
Unlike other tea accessories, such as cups with lids, tea thermos flasks are airtight. Once you have brewed your tea leaves in water, you can carry your drink in a bag. Moreover, the steel or glass of an insulated bottle does not retain the taste of teas. You can therefore keep a different infusion every day.
How to choose a tea thermos?
There are different selection criteria for insulated bottles. As for a teapot, you must choose the material that will allow you to keep the temperature of the water of your teas. Both stainless steel and double wall glass accessories are of high quality. A stainless steel tea thermos is stronger and retains the heat of the teas better than a glass model.
However, a glass thermos bottle allows you to know how much water is left in your drink. The design of this accessory can also be attractive. To choose your accessories to keep tea hot, also take into account :
the capacity of the isothermal bottles ;
the weight and size of the tea thermos;
the design of the tea accessory.
You should choose your insulated bottle according to your use. To drink tea while traveling, choose a stainless steel thermos with a good capacity. A glass tea thermos will be a perfect accessory to keep the temperature of your infusion while you are at work.
Make tea everywhere with mugs and thermos equipped with a tea infuser
Tea mugs and thermos jugs with infusers are two other accessories to keep tea hot. They allow you to keep the water temperature of your teas, but also to brew your drink. Their different features clearly distinguish them from the classic teapots or your tea cup with lid.
A tea mug and an isothermal bottle with infuser have similarities and differences. In addition to the design of these accessories for brewing tea and keeping it warm, they serve slightly different purposes. They do, however, share some advantages over traditional teapots.
Why buy a mug or a thermos with an infuser to keep the temperature of a tea?
These accessories are particularly suitable for brewing teas for one person. Thermos flasks and tea mugs are also easier to transport than a teapot. Thanks to their stainless steel lid and filter, they allow a perfect infusion of the tea leaves. It is therefore an alternative solution to tea balls that sometimes compress the leaves too much.
Unlike a traditional tea cup, your tea mug allows you to take your time to drink your beverage. These accessories to keep the tea warm act as real portable teapots. With a few loose teas (green tea, pu-erh tea), a bottle of water and your tea mug or thermos, you can brew anywhere.
Unlike a traditional tea thermos, the models with a filter infuser allow you to brew your teas while on the go. In addition, some pocket teapots offer multiple tea filters to better control the brewing and taste of your drink.
Mug or thermos: which type of portable teapot to choose?
The choice of your tea accessories depends on your habits and needs. A teacup with filter and lid is the perfect teapot for one person. Buy this type of product if:
You always drink your black or pu-erh tea in one place.
You are the only one who drinks cups of tea at home.
You only drink one cup of tea at a time.
The tea thermos with filter allows you to brew your tea leaves while traveling. Stainless steel products are lightweight and convenient for keeping your brews warm and tasty. You like to drink your first cup of tea when you arrive at work? Choose a glass tea thermos with filter.
These nomadic teapots are more fragile. They will easily retain the heat of the tea water for short periods of time. You will easily find a design of glass tea thermos with a style that suits you. As you can see, these accessories for keeping tea at the right temperature are not interchangeable. You can purchase a tea thermos with an infuser in addition to your filtered tea cup.
To learn more about tea accessories, check out our other articles: