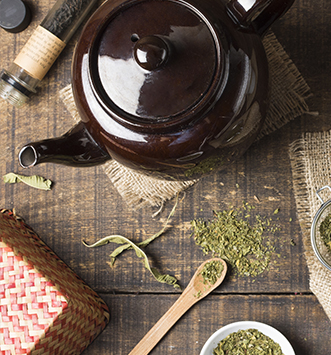 Quality organic teas, elegant teapots, efficient filters, delicate cups... All the details count to make each tea tasting experience unique. Guarantee yourself a systematic sensory experience by selecting the right tea accessories. When properly stored, tea is a non-perishable product. However, it can deteriorate or lose its flavor when exposed to air. Certain precautions are essential for an ideal preservation. Here are some practical tips to help you choose and use your tea storage accessories.
How to ensure a good preservation of teas, herbal teas and infusions?
Tea storage accessories are the key to preserving the quality of the product over time. Storing tea properly means protecting it from anything that could damage it. It is a question of avoiding theoxidation of the tea leaves, i.e. the degradation of the particles in contact with oxygen. Here are the five main enemies of tea preservation:
air: use vacuum-packed tea bags or airtight tea boxes;
light: store your tea accessories in a dark cupboard to avoid loss of taste due to photo-deterioration; prefer opaque boxes and tea bags;
humidity: tea releases its aroma when in contact with water, it is well known! Hermetically sealed tea boxes with a double lid provide additional security;
heat: it accelerates oxidation, remember to keep tea storage containers away from heat sources such as kettles, ovens, hotplates..
strong odors: keep all your tea storage containers away from unwanted odors; tea leaves absorb and release scents, the aromas can lose intensity or mix with the odors if they are in contact.

Some types of tea have a shorter shelf life than others. You will find an expiration date on most tea packages. It is generally recommended to consume tea leaves, infusions or herbal teas within two years of harvest. After that, they are still consumable, but lose some of their flavor, smell and color. See this page for more information about tea storage.
The tea caddy, the ideal ally for tea conservation
Dried tea leaves or herbal teas are living matter and need to be kept at a humidity level of about 3%. Below this level, teas and infusions lose their flavor over time. Beyond that, the leaves to be infused risk becoming moldy. To take care of these fragile goods, the tea caddy is a perfectly adapted solution for the conservation of teas.
Ideal to store all teas, herbal teas and infusions in a clever way, protected from air, odors, light and humidity, the tea caddy preserves the aromatic properties of the leaves. Its airtight lid provides excellent protection against humidity and temperature variations. Traditionally designed to store tea in bulk, the metal tea caddy, more resistant to humidity, has replaced its wooden ancestor, which was the original material.
Simple or sublimely worked with artistic details, the tea caddy has become a work of art participating in magnifying its container.
How to choose the right tea box ?
A real decorative object, the tea caddy is available in many variations, according to tastes and needs: compact, large format, Japanese or sober design, made in France, eco-friendly... Available in various materials, the choice of a tea caddy must above all meet your own practical, aesthetic and ethical criteria:
capacity and format adapted to your storage place and your consumption mode (stock size, loose leaves, tea bag storage box...) ;
decoration, look matching your cups, mugs, teapot;
material, functional and design aspect: metal box, glass, iron, wood, bamboo..
eco-responsible manufacturing, handcrafted like the Washi tea box..
quality-price ratio: consult the customer reviews to get an idea of the quality of the products.
For a perfect preservation of tea and a personalized decorative touch, the hermetic tea box is the choice that combines elegance and efficiency. Discover here our selection of tea caddies, specially chosen for their reliability and their undeniable charm.
Preserving teas, herbal teas and infusions in bags
We deliver all our organic teas and infusions in a vacuum bag. This packaging, perfectly sealed, ensures a stable and impeccable conservation of coffee and tea. It appears less aesthetic and practical than the tea boxes.
You can also repackage your tea and infusion stocks in small bags cleverly designed for the conservation of dry food products such as tea. You will find them in the form of opaque plastic vacuum bags. They have a zipper or zip closure. These accessories for preserving tea meet strict conservation standards and allow the preservation of virtues and aromas over a long period. Find out more about tea storage bags on this page.
Other must-have equipment for tea lovers
Drinks with multiple benefits for the body, teas and infusions have been drunk for centuries, on all continents. Rich in traditions and cultural variations, the principle remains the same everywhere: a teapot in which aromatic leaves are infused in boiling water, a filter system and then the service in cups, mugs or tea bowls. Whether you are a traditional tea time enthusiast, a Japanese style customer or a nomadic tea drinker, with the stainless steel isothermal bottle always at hand, you will find other valuable information in our pages about :