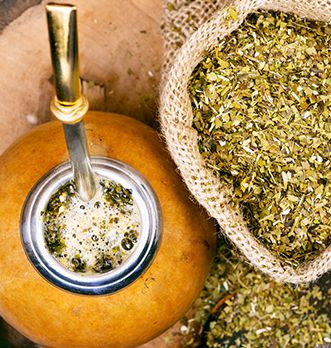 Do you want to travel to the heart of Argentina? Tea accessories, especially mate accessories, are essential to create this traditional drink. That's why utensils like the calabash and the bombilla should not be considered as options when preparing yerba mate. This way, the tasting will be more tasty and your taste buds will experience a real discovery.
How to choose your mate calabash?
To make mate in an artisanal way, you will need a calabash. This product is the fruit of a climbing plant called the calabash tree. Thanks to its squashy shape, the gourd, which will be dried and hollowed out, will serve as a natural container for the tasting of the yerba mate. It is an essential part of the discovery of this beverage from Argentina.
There are different models of gourds, other than the squash. They can be made from materials such as wood, glass, silicone or ceramic. When tasting organic yerba mate, the taste will vary depending on the material used to make the cup. Moreover, you will not proceed to the same cleaning according to the container. Your choice will be based on your expectations and the price you want to pay.
For a unique and traditional taste experience, the vegetable mate pot is perfect. Indeed, if you are a tea lover you will be delighted by its flavor, as if you were in South America. However, if you are a novice in this field, you may prefer ceramic or glass accessories to fully appreciate this infusion.
How to choose the right bombilla?
For a complete tasting, the calabash cup is not enough. The bombilla is part of the maté accessories that will be indispensable. Thanks to this straw, you won't need to remove the leaves of the infused teas with a spoon. Indeed, this straw will have two important functions:
The first one: it will allow you to drink the infusion.
The second one : it will be used as a filter.

This pipette can be made with various materials such as alpaca, wood, stainless steel and even aluminum. This mate straw also comes in different shapes. Before putting the price in a bombilla, you must take into account its size, the diameter of its holes, its resistance to heat, its quality, etc. Also, you should check its compatibility with your calabash, in order to live this experience fully.
If you are a beginner in tasting yerba mate, you probably won't want to invest in expensive products at the beginning. That's why we recommend using a stainless steel bombilla. This type of product is often available at an affordable price. Do you prefer to do it the Argentine way? In that case, your choice will be the traditional alpaca straw.
How to clean your mate accessories?
Maintaining and cleaning your utensils are steps that should not be neglected. Indeed, it is part of the preparation especially if you have a bombilla and a traditional maté gourd.
Let's discover the four steps to wash your artisanal gourd:
Step 1: Cure your cup before the first use. Since it is a dried gourd, you must scrape it well. This will have a positive impact on its resistance and also on the taste of the yerba mate.
Step 2: throw away the tea leaves after drinking your infusion. Water increases the density of the mate and this pressure can cause cracks to appear.
Step 3: Wash your pot after each use. To do this, simply rinse with hot water (after removing the tea leaves).
Step 4: Dry the pot well. To banish mildew, it must be thoroughly dry. Dry it in the sun and if you can't, put it on a slight angle.

Themaintenance of your bombilla is also done regularly. Some products can be opened, which makes cleaning much easier. To properly wash your mate straw, you'll need to use a special small brush. Slip it into the bombilla and scrub all the holes well.
For an experience rich in unique and indescribable flavors, indulge in favorites like organic yerba mate. For this, it is essential tohave the right accessories such as a calabash pot, a bombilla and even a thermos (to help with the infusion). In order not to deteriorate the taste and to preserve your accessories for a long time, it is essential to proceed to a correct cleaning (no matter the choice of the material). You will then be able to continue your gustatory discovery in the heart of Latin America for longer.
You might also like these other pages: