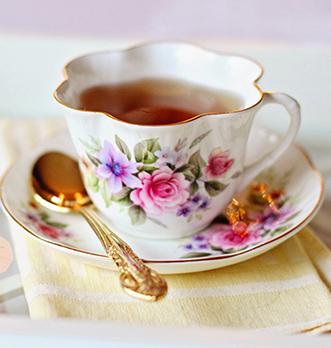 The English tea set is a must. England is the reference in the field when it comes to enjoying a tea worthy of the name. What material should you choose to enjoy a quality English tea? What are the distinctive features of an English tea set? We guide you in your purchase.
Porcelain, earthenware or ceramic: what to choose for your English tea set?
Vintage and elegant, the English tea set can be made of three materials: porcelain, earthenware or ceramic. If white is very often used, it is because it is preferred to contrast with the color of the tea or coffee. Your choice of service will depend mainly on the type of tea you drink (always with milk according to the English tradition). The important thing is not to alter the quality of your favorite English beverage.
English porcelain or earthenware tea sets are synonymous with English tradition. These pieces are the perfect finishing touch to your meals or your afternoon tea times. Antique style, the earthenware teapot will be the envy of your guests. Ceramic, a model a little further away from British sophistication, still has its advantages.
To choose your English tea service, it is important to take into account these criteria:
Heat retention is more effective with an earthenware or ceramic tea set. Porcelain has very thin walls, with this service, the tea is tasted more quickly.
Porcelain and earthenware tea sets retain the taste and flavor of tea better.
The English porcelain tea set is ideal for milder teas such as green, yellow or white tea. The ceramic tea set is more suitable for strong teas such as black tea.
White and gold or patterned: how to choose your English tea set?
The English tea set adapts to all tastes:
from the most classic, entirely white and only decorated with golden borders ;
to the most vintage, decorated with floral patterns, usually in pink.
The English tea set is sophisticated and decorative: you can choose it according to your interior or your tableware. There are a few criteria to take into account for an English tea service worthy of the name:
the English tea service is composed of an English teapot, cups and their saucers, a sugar bowl, a creamer and small spoons;
do not hesitate to add a cake stand and a tray, to cover your table with a white tablecloth and lace doilies for a respectable English tea time;
the teapot, British par excellence, is recognizable among all with its wavy, long or half-long spout;
choose cups that match your teapot and that are not too big, keep it simple and elegant. You can also match your dessert plates to your tea set.
English tea had its moment of glory in the 19th century. It is still a staple of English culture today and is served at tables all over the world, even in France. The essential elements to take into account when choosing your English tea set are your consumption and your personal taste. If you follow our advice, your table will be elegant, chic, vintage, and sophisticated: enough to invite the Queen of England to your afternoon tea time. As long as you don't forget the saucers and, above all, the creamer.
You may also be interested in these other items