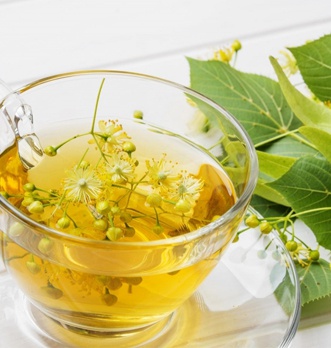 Appreciated by Marcel Proust, the linden tea is known for its calming and sedative properties. The bracts and flowers of this tree are also depurative, soothing, hypotensive and diuretic.

On a daily basis, this herbal tea helps you to keep your health. For a cold, a gastric pain or cellulite, the natural effect of the decoction of lime leaves relieves you quickly. Its use in weight loss is also recommended.

Lime tea is easily made with hot water and dried bract. If the inflorescences require a short infusion, the bark extract reveals its properties in recipes to be infused for longer.
What are the medicinal virtues of linden tea?
Herbal medicine recognizes the qualities of organic linden-based infusions. Friend of the sleep, this plant has medicinal uses on the kidneys, the pains, the (over)weight and certain winter disorders.
What is the lime tree?

Lime trees are common garden trees in France. The organic products available in herbalist shops are mainly made from the flowers and leaves of tilia sylvestris.
How is linden used in herbal teas?

Depending on the use and the virtue sought, several parts of the tree are used in phytotherapy:
the inflorescence (the flower and bracts of the lime tree),
the sapwood (inner bark of the wood),
the buds, with the closed bract.
What are the health benefits of tilia infusion?

The organic linden tea sold in bulk or in bags in herbalist's shop is made of dried leaves. Its recipes treat many health problems.
The lime blossom facilitates quality sleep .
The sap of lime drains the body.
Lime leaf decoction soothes the throat.
Herbal teas from the soft part of the wood reduce joint pain.
Lime infusions relieve gastritis.
How to use tilia tea?
Depending on the desired effect, linden tea is drunk before or after meals, hot or cold. The taste of the flowers is sweet while the harder part of the plants produces a slight bitterness. Tips for preparing the product.


How to prepare a linden tea ?

Lime tea is as simple to use as chamomile. You let the bag of dried leaves infuse in hot water. Depending on your taste, you can drink the product alone or with lime blossom honey to reinforce its soothing properties.
How to enjoy the benefits of tilia infusion?

According to the opinion of the phytotherapists of France, theinfusion of lime tree as well as the honey can be consumed by all the family. In bulk or in bags, the effects of the decoctions of lime leaf depend on its quality. The use of organic plants, such as herbal products, is recommended.

As with loose chamomile, you use the flowers and bracts to improve your sleep. Lime tree sapwood, depurative, is accompanied by a remineralizing plant like horsetail, also present in the garden.