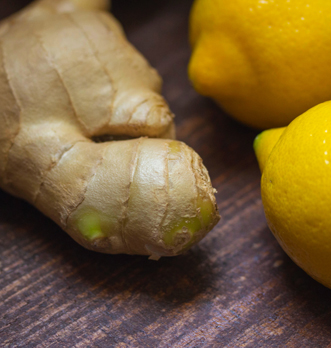 Herbal teas are recognized in phytotherapy to bring a certain well-being to our body. Among the medicinal plants, ginger, whose rhizome is used in infusion as well as in cooking, is not lacking in interest.

Its active principles offer many virtues, in particular in the digestion. Reputed to relieve nausea, ginger has unsuspected properties. It is therefore time to review the benefits of a ginger tea.
Properties and benefits of ginger tea
Ginger has the reputation to have aphrodisiac effects. In addition to this particularity, this tropical plant has other unsuspected assets. Rich in vitamins and minerals, ginger tea can be used for more serious ailments. Most often used in cooking among spices, ginger root dispenses its beneficial properties to our health in infusion. Simple and quick to prepare, this hot drink has more than one trick up its sleeve.


Relieve nausea
Nausea is caused by various situations: digestive problems, pregnancy, treatments, migraine. Ginger appears as a natural remedy. It is even recommended to take a ginger infusion to fight against motion sickness.
Digestive system disorders
Ginger is known for its effective action on digestion. The root is antispasmodic, eliminates gas, relieves attacks of diarrhea and offers soothing virtues in case of indigestion.

Other unsuspected virtues of ginger tea
Anti-inflammatory: it relieves sore throats.
Menstrual pain : by stimulating blood circulation.
Weight control.
Antiseptic and antiviral : helps to fight against colds

Stimulates the immune system.
Reduces stress
Antioxidant
How to consume ginger?
Excessive consumption of ginger in infusion can reduce these positive properties and turn into an enemy against your body. It can, for example, prevent you from sleeping. Some precautions should therefore be considered, especially in the case of pregnancy or stomach ulcers. The advice of a medical professional may be useful.
How to prepare ginger tea and take advantage of its benefits?
There are two ways to prepare an infusion: either by using the powdered root or by opting for fresh ginger . In both cases, organic ginger is preferable.

Among the recipes based on fresh ginger, the most famous is the decoction of ginger, honey and lemon. The properties of the root, coupled with those of the lemon, give a preparation with a powerful effect. It acts on weight loss, detoxifies the body and strengthens the immune system.
The home recipe of the infusion ginger lemon
Boil water in a saucepan
Pour the water into a cup and add 1 teaspoon of ginger powder or 1 teaspoon of grated ginger
Add the juice of half a lemon
Leave to infuse for about ten minutes and filter.
You can also consume this infusion as a cool drink in summer and enjoy its thirst-quenching benefits. In summer as well as in winter, you should consume this preparation on an empty stomach.

To soften the powerful and spicy taste of ginger, you can also add ingredients such as honey or a little mint. For spice lovers, ginger tea can also be enhanced with cinnamon or turmeric. If plants have many benefits for our health, spices also have a role to play in our body.