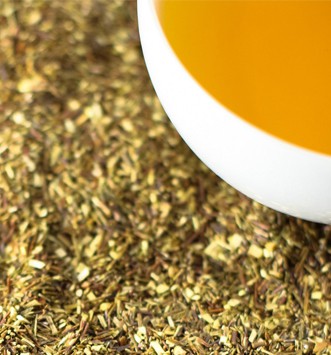 Green rooibos is a less fermented variant of red rooibos. This African infusion is characterized by a lighter flavor. Although it has the same medicinal properties, green rooibos is richer in antioxidants than the red version. Let's discover this healthy herbal tea, unknown to the general public.
What is green rooibos?
Rooibos is a shrub from South Africa. Its scientific name is aspalathus linearis. This plant grows in the wild in the Cederberg mountains. Its leaves have a reddish color characteristic of the drink.
The black point of rooibos is that it grows only in this region. Its rarity is one of the reasons for its price.
To obtain a green rooibos, the leaves are dried in the sun and then reduced to coarse pieces. They are then placed in a resealable bag to arrive in your cup. The leaves for red rooibos are fermented. This is where they take on a more intense red color. Their taste then changes to take on a sweeter note.
What are the specificities of green rooibos?
The leaf of green rooibos does not ferment. Therefore, it keeps its nutritional value better than red rooibos.
According to specialists, for an equivalent weight, green rooibos is richer in :
antioxidants ;
vitamin C ;
mineral salts.

Theinfusion of green rooibos gives golden reflections. It has a fresh note reminiscent of green teas. Sometimes, its taste is a little bit sour too. Green rooibos is sometimes mixed with other plants for original recipes. It must be kept in a resealable bag to keep the subtleties of its taste.
What are the health benefits of rooibos?
Specialists have a unanimous opinion on rooibos: these "teas" have interesting virtues for health. This herbal tea contains many antioxidants. And, it is also free of theine and caffeine. The absence of substances such as theine and caffeine prevents insomnia. The icing on the cake is that it has a very low tannin content.
Depending on the origin of the rooibos, the customer gets varying health benefits. However, this organic plant drink has a beneficial effect on:
digestive disorders;
sleep disorders;
vascular disorders.

The effect of rooibos can be immediate on colic. However, the client must be more patient with the herbal tea for deeper problems. The advice of a specialist is recommended in case of persistent problems. A herbalist can also give you specific recipes with other plants or spices.
How to prepare your green rooibos ?
Organic rooibos all come from Africa. The quality of the product is therefore dependent on the conditions of purchase and delivery. The origin of the plant must be certified. A high quality product is necessary to obtain a tasty herbal tea. The product should be made ofaspalathus linearis only.
Organic rooibos in bulk is the best alternative. However, it should be in a resealable bag so as not to lose taste. A bag to be soaked, like those of teas, gives a product of lower quality. Indeed, the plants are almost ground. The flavor is therefore altered. The loose plant also has a better quality-price ratio.
The next step is to choose the right water. According to experts, spring water is the best. Mineral water should be avoided as its taste distorts the flavor of the rooibos.
For a natural preparation, the green rooibos must infuse 8 minutes in water at 100 ° C. The longer you leave it, the darker the golden reflections will become. The flavor may also become stronger, but unlike teas, it will not become bitter.
How to add flavour to your green rooibos?
Organic green rooibos can be blended with many spices. It can also be flavored with fruit peels.
Obtaining a fragrant rooibos is relatively easy. With a few fruits or spices, you can concoct your own blend. If you are in need of inspiration... an online purchase with fast delivery should satisfy you. The presence of a resealable bag is however essential to keep the flavors of your products.
To succeed in such recipes, you must ensure that the weight ofaspalathus linearis is greater than the weight of other components of the finished products. Peach rooibos is currently the must-have for gourmets. But it is above all your opinion that counts to choose your flavor.
With a cloud of milk, the organic fermented beverage advantageously replaces the English "cup of tea". The infusion can then be consumed with the family around a peach pie or a Savoy cake.