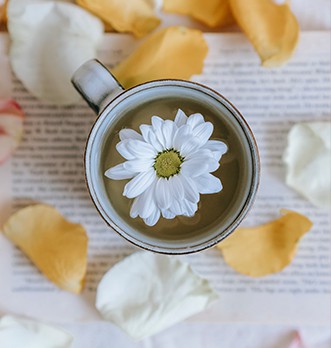 CBD infusions are now popular and known to the general public. Find out how to consume CBD leaves and combine these infusions with other ingredients to increase the desired effects. A hemp and chamomile based herbal tea brings you a welcome moment of relaxation and interesting flavors. The beneficial effects on health of a CBD tea with chamomile are often sought by consumers.
What are the particularities of a CBD tea associated with chamomile?
In addition to their delicious taste, herbal teas based on cannabidiol are easily mixed with other plants. This association of quality products allows to infuse a drink with interesting characteristics. Tasting incredible flavors, relaxing effects, reduction of the state of stress and relaxation are then at the appointment.
What are the benefits of CBD infusions with chamomile?
The benefits of CBD infusions and cannabidiol-based products on your health and your body are numerous. If this type of infusion has a significant effect on your physical and emotional well-being, the properties of CBD and chamomile are not foreign. A CBD infusion with chamomile is primarily known for its soothing properties. Yet, the combination of these flowers and their properties impacts your health and your body more. Rich in benefits, the CBD drink almost becomes a must-have herbal tea.
The CBD and chamomile infusion to soothe your nights
Therelaxing and sedative effect of chamomile and a CBD product to prepare you for a good night's sleep is no longer in question. By sipping a cup of CBD and chamomile tea before bed, you put all the chances on your side to find sleep easily and enjoy a good night.
Interesting flavors when tasting CBD herbal tea with chamomile
If chamomile and hemp-derived herbal tea is making waves for its interesting properties, its sweet and peculiar taste at the same time is not left out. In addition to taking care of your health by consuming this type of infusion, live an exciting moment of tasting and put your papillae in boiling. The powerful aromas of hemp and the sweetness of chamomile are sure to delight your palate.
Chamomile in your CBD infusions to help digestion
Chamomile is known for its antispasmodic effect. This incredible flower also helps digestion. Combined with theanti-vomiting effect of CBD, chamomile offers a perfect combination to get your digestion back in control. Feel free to drink a cup of CBD chamomile tea before or after meals. Calm your digestion and any stomach cramps. Enjoy your meals while soothing your digestive tract.
Chamomile and CBD in infusion to maintain your nervous balance
These two products, used separately, can boast a positive impact on your health, your body, but also your mind. There is nothing like an infusion combining chamomile and CBD to stabilize your mood and reduce your state of stress and anxiety. While CBD and chamomile tea is known to promote a sweet night, it is also perfect for helping you have calm and serene days.
Other properties of chamomile combined with the virtues of CBD teas
Chamomile has many other benefits for your health. The antibacterial and antibacterial power of chamomile is also recognized, as well as its action on pain relief. If your CBD chamomile tea is tasty, it also offers you many interesting properties for your health. Effective in infusion, this combination of products decreases the pain during your period for example. Also try a gargle and a warm infusion of CBD and chamomile to soothe sore throats.
Why combine a CBD tea and chamomile products?
Consuming CBD herbal teas allows cannabis enthusiasts to enjoy the benefits of these products, without having to deal with the negative effects associated with the presence of THC. If the properties of CBD are sought after by consumers, they appreciate the combination of the product with other plants with interesting virtues. By all accounts, chamomile flowers are ideal for enhancing some of the benefits of CBD and complementing the positive effects on your health.
What other types of plants should you associate with your CBD teas?
CBD herbal teas and products are easily combined with other plants. Enhancing the taste of the drink and complementing the effects, thanks to the addition of certain flowers, gives you a quality product. If the chamomile reinforces the appeasement and the serenity already brought by the CBD,other ingredients mix marvelously with this type of teas to offer you a unique product. Think for example of lime, verbena, lemon balm or orange blossom petals.
CBD infusions with healthy characteristics and respectful of your health
The ingredients chosen to compose your CBD tea diffuse slowly in your body. Unlike other means of diffusion, the infusion is slower, but also healthier. CBD products, without the presence of THC, offer you all the benefits of hemp without the unpleasant and harmful psychotropic effects. When ingesting your infusion, wait a few minutes before benefiting from the calming or other effects you are looking for.
Do not hesitate and consume with serenity your CBD tea with chamomile throughout the day. No side effect, related to THC, will be able to come to tarnish the course of your daily life.